News
giftEDnz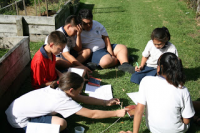 Identity development in the gifted:
Understanding giftedness as one of many diversities
We know that giftedness is complex on its own, yet most people have several different types of identities that intersect to comprise their lived experience. For example, one person may have an ethnicity, spirituality, and physical ability that are all intersecting with their giftedness to impact their identity. This workshop will look at giftedness as one aspect of the experience of diversity, how this might lead to a feeling of "differentness", and potentially to stigmatization. We will also examine ways to reflect on other types of diversities, and to sort through and see which ones are most salient or need the most support at this time. Participants will be invited to discuss the intersectionalities of diversities within their students/clients, and will come away with tools to aid them in exploring and supporting self-understanding of multiple diversities within the gifted.
This workshop will be led by Professor Debbie Clelland, a visiting teaching scholar from Adler University in Vancouver, Canada. Debbie is a registered clinical counsellor who holds a PhD in educational psychology. Her PhD research explored the needs of parents of gifted children, and she has also conducted research on acceleration policies and counselling families of gifted children. Debbie teaches in the counselling psychology program and values her role as a scholar teacher at Adler. Debbie is visiting New Zealand and Australia to learn more about different perspectives and experiences of being gifted, and to share her expertise with New Zealand professionals and families.
During the workshop, there will be opportunities for discussions which will enable participants to consider identity development from different angles, including culture, early development, schooling and research. This interactivity means the workshop participants can focus on what identity development means, how to apply it in different contexts, and the implications of identity development for practice.

If you'd like to join us for this inspirational event, please go to
and register your interest.

Gold coin entry with afternoon tea provided.
Saturday, March 9
1pm - 4pm
ND304 Gate 11 Otara Road - Manukau Institute of Technology