Resource
giftEDnz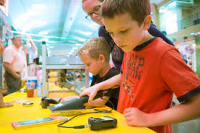 STEAM learning is all about "thinking with your hands,' STEAM stands for integrated science, technology, engineering, arts, and maths and is a fantastic platform to meet the needs of our gifted and talented students.
The link below will take you to another crowdsourced collection of resources that you can add to your toolbox to support your learning and teaching programme. Please keep adding to these resources. To date, there are nearly 50 resources in this ever-growing collection.
Please click HERE for access to the crowdsourced resource collection. We'd love you to keep adding to this as well.